En 1959, Jacques Pulvermacher inaugure la galerie At Home à Toulouse.
Elle est destinée à la promotion des arts de la Terre et du bijou d'artiste qui connaissent un exceptionnel épanouissement en cette période. Les caves romanes du sous-sol sont aménagées en galerie d'art. Dans un milieu culturel très conservateur, voire hostile, il expose néanmoins des gravures de Picasso, Derain, de Staël, Magnelli puis présente des expositions personnelles de Poliakoff, Marfaing, Zack, Zao Wou-Ki. En 1969, Laurence Izern ouvre la galerie Protée en face de At Home qui continue son activité. On y verra Hartung, Soulages, Tapiès, Schneider, Victor Brauner... Protée, de plein-pied sur la rue se révèle un meilleur outil de travail et progressivement At Home fusionne la partie galerie d'art de son activité avec Protée. En 1984, les deux galeries s'associent définitivement et ouvrent à Paris, rue de Seine, la galerie Protée. At Home cesse alors son activité toulousaine, Protée Toulouse fonctionnera jusqu'en 1997. Laurence Izern reste expert près la cour d'appel de Toulouse.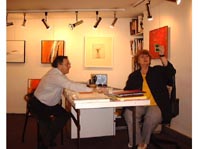 HOW IT ALL BEGAN

In 1959, Jacques Pulvermacher inaugurated the gallery "At Home" in Toulouse.
It's vocation was to promote the "arts of the earth" and art jewellery, both at a peak of creativity at that time. The Roman caverns that formed the basements were fitted out to serve as art galleries. In this very conservative – not to say hostile – cultural environment, he nevertheless exhibited engravings by Picasso, Derain, de Staël, Magnelli and put on individual exhibitions of Poliakoff, Marfaing, Zack, Zao Wou-ki. In 1969, Laurence Izern opened the Galerie Protée just opposite "At Home", which was still going strong. Hartung, Soulages, Tapiès, Schneider, Victor Brauner ... could be viewed in the Galerie Protée, which turned out to be a more effective showplace because it gave directly on to the street. Gradually, "At Home" merged its art gallery activity with Protée, and in 1984 the two combined forces for good and brought the Galerie Protée to the Rue de Seine in Paris. "At Home" gave up its activity in Toulouse, though Protée continued there until 1997. Laurence Izern is still an expert at the Appeal Court in Toulouse.